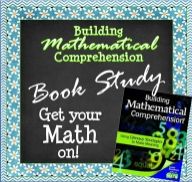 Are you on board with this book study yet? It's a great follow - up to last summer's study of "Guided Math." I'm jumping in on week 2, 'cause I didn't have the book in time and have been reading furiously to catch up :) I can tell it is going to be an awesome study. Here are some thoughts on chapter 2.
Chapter 2: Recognizing and Understanding Mathematical Vocabulary
I tried really hard to do a better job with academic vocabulary this year in math class. I definitely improved, but I need to do so much more. I found this chapter very helpful in focusing on what I need to do to help my students. It was a great reminder that knowing key vocabulary is essential for understanding math concepts. I also realized that I am not doing some of the things in math vocabulary instruction that I did when I taught reading. DUH!
Next week I will be working two days with other teachers to develop proficiency scales for third grade math. We will be working with a couple or Marzano associates. One thing we will be looking at is the critical vocabulary for math. I was so happy to find this in chapter 2:
Marzano's eight research-based characteristics of effective direct vocabulary instruction:
1. Effective vocabulary instruction does not rely on definitions
2. Students must represent their knowledge of words in linguistic and nonlinguistic ways
3. Effective vocabulary instruction involves the gradual shaping of word meanings through multiple exposures
4. Students should learn word parts to enhance understanding of terms
5. Different words require different pes of instruction
6. Students should discuss the terms they are learning
7. Students should play with words
8. Instruction should focus on terms that have a high probability of enhancing academic success
Based on this, chapter two has a 6-step process for teaching new words. This is going to guide my instruction this year. There are also some great examples of word walls and graphic organizers as well as ideas for games to play.

A great take-away for me was that while my grade level team put together a list of vocabulary for next year, it needs to be refined to be sure it matches the standards. I'm hoping that will be part of our work this week; if not I need to start working on it myself.