Most of my time in the classroom is devoted to teaching math and science to my two classes of third graders. On Wednesday mornings, though, I have a little bit of Social Studies time for my homeroom kiddos. As you might imagine, it's hard to fit in a whole lot!
I knew that if I wanted to make sure that my kids know WHY we don't have school on Monday I'd need to step away from our regular curriculum resource and supplement with some of the fantastic MLK resources I have found. I decided to do this before the holiday; if you are continuing into next week you may want to consider some of these ideas. Here is what we did!
For years my favorite book has been "Martin's Big Words." I used it when I taught kindergarten, second, and now in third grade. No matter how many times I read it, I always get choked up. A few years ago I discovered that it is available on DVD. Now I use that (although I still choke up!). As a bonus, there are several other stories on the DVD from the African-American tradition, which I use during Black History month.
A new find this year was this extremely catchy song; the kids just loved it!
Back in the day when I taught Kinders, we did a LOT of
TLC art projects
. I have to confess, I've never done them with my 3rd graders! This year I decided to do the MLK portrait; it was a huge success and they have asked if we can do more of these projects.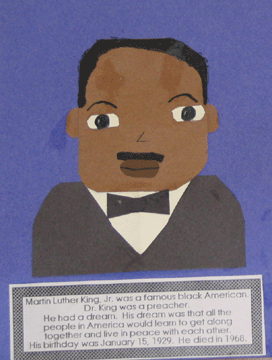 Sally at Elementary Matters has a wonderful activity titled "Just or Unjust," which I used by giving students each two cards, having them read them to the class and tell us whether the statement is just or unjust. It led to lots of great discussion. Click the picture to get this freebie from her blog. It makes a great board display.
AND . . . one other note: I'm about to hit 200 followers on my blog! If you'd like to contribute to the giveaway that I am planning please let me know. I will be using Rafflecopter and will require following your blog and FB page for entries; I plan to have a few days (maybe a whole week) of daily prizes.