Today is what we call our pre - Pre-planning day, so I'm at school for professional development all day. Our principal uses this as an opportunity to get us in for some training, with a stipend, before our regularly scheduled work days. I'll be in two workshops -- one on Picture Perfect science and the other on Thinking Maps. Hopefully some good stuff to share in a later post.
For my techie post this week, something just a bit different. I've mentioned using Discovery Education streaming a couple times recently. I know that not everyone is in a district that subscribes to Discovery so I hope you will be patient with me as I write to those of you who
do
have access. So many of my friends who use Discovery Education for the wonderful videos, the assignment builder tools, the assessment tools, etc. are less familiar with the Discovery Star Educator opportunity. If you are one of them, I want to persuade you to check it out!
It all starts with the DEN - the Discovery Educator Network. From Discovery:
the Discovery Educator Network (DEN) is a global community of educators passionate about teaching with digital media, sharing resources, collaborating, and networking. With over 100,000 members providing professional development to over 600,000 educators worldwide, the DEN connects teachers both on-line and in-person. Discovery Educators have exclusive access to a wide range of resources, professional development activities, networking opportunities, exclusive Discovery Educator events and more!
When you log into Discovery you can access the DEN and all its resources. However, there is so much more available when you become a Discovery Star Educator. Here is a comparison:
| | | |
| --- | --- | --- |
| | Discovery Educator | STAR Discovery Educator |
| Read DEN blogs | | |
| Comment on DEN blogs | | |
| Personal blog hosted by Discovery Education | | |
| Participate in DEN forums | | |
| Search and download from DEN Educator Resource Library | | |
| Upload materials to DEN Educator Resource Library | | |
| Attend virtual events (EdTechConnect, Virtual Conferences) | | |
| Welcome Kit from the Discovery Educator Network | | |
| Access to training kits to use during PD sessions and workshops | | |
| Weekly communication highlighting events and promotions for STARs | | |
| Exclusive promotions and contests (e.g., Teacher Appreciation Week, Spring Training) | | |
| Access to Discovery Communications events (e.g., Planet Earth premier, lunch with the Mythbusters) | | |
| Opportunity to attend local, regional and state-level DEN events (e.g., Days of Discovery, PETE&C prec-conference) | | |
| Opportunity to attend national DEN events (e.g., National Institute) | | |
| Eligible to become a DEN Leadership Council member | | |
Let me tell you a little bit about what I've experienced as a STAR Educator.
1. A cool welcome kit back when I started.
2. Workshop materials that I have used to educate colleagues about using Discovery.
3. Special gifts during Teacher Appreciation Week (exclusive access to Discovery features, free accounts with other sites, etc)
4. Invitation -only events. My first was a Day of Discovery event at an Orlando resort. I received a Planet Earth DVD set for attending! Another was at Sea World, where I experienced the behind the scenes tour, plus a great day of techie professional education. Special meetings at FETC, a huge tech conference held in Orlando each year (the last couple featured Jeff Corwin and Phillippe Cousteau). Recently I had an evening at the Orlando Science Museum with a couple of great workshops.
If you are using Discovery Education, please take a few minutes to click on the DEN and complete the application to become a STAR Educator -- you won't regret it!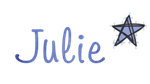 Join the Party!