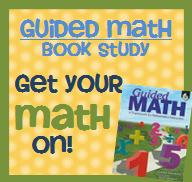 Hosted by:
What is essential and is a distinguishing characteristic of Guided Math classrooms, though, is the use of assessment for leaning. Assessment in Guided Math classrooms is ongoing and informs instructional decisions. (p. 243)
As with the other chapters of this book, I found myself thinking about some of the things I've been doing well and some others that I need to improve. I completely agree that as teachers we need to find out what our students know in order to plan the next steps. However, I will confess that many times that process breaks down in my classroom and the next steps come from the book instead.
I do quite a bit of formative assessment; I'm very fortunate to have a Smart Response system which I can use to give me and my students immediate feedback. I'm thinking now about ways to refine my use of the system to help me give better feedback. We are a Marzano district, so the list on p. 239 will fit right in:
feedback should be "corrective" in nature

feedback should be timely

feedback should be specific to criteria

students can effectively provide some of their own feedback
This has me thinking more about my conferring with individual students as well as the small group instruction.
A few days ago I shared my self-assessment scale in this blog post. I realized as I read chapter 8 that I could take that scale and turn it into a rubric for a math unit. That would address the need to clearly communicate to my students what they need to do to meet the standards and can also be a great way for sharing students' achievements with parents. I have already make Data Folders for my students and plan to make this one of the pieces for that folder.
I played around with a rubric for my first math unit, based on the learning goals. It's a work in progress with just some preliminary ideas, but I'm going to share it 'cause I'd love some feedback from anyone else who has done this or is working on it. Click here to take a look.
Hard to believe we are almost done with this book. Please be sure to check the blog from our host for this chapter and check back on July 19th for chapter 9.