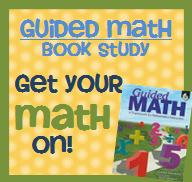 Click their blog buttons to read their take on the chapter.
Conferring With Students During Guided Math
This is an area of Guided Math that I have not been doing consistently or effectively, so a lot to learn here. Sammons reminds us that conferring is an important tool to make our instruction more focused and powerful. Like with small group instruction, it's important to have Math Workshop operating smoothly so that the teacher can focus on the individual students without having to constantly deal with interruptions. This book is reminding me constantly that I need to take it slow at the beginning of the year and establish my routines. I have a tendency to want to jump right in, so this will require me having a clear plan of how I'm going to start on August 20th!
I was struck by the statement on p. 210: "Management is often easier if teachers crisscross the classroom as they confer. Such a simple thing, but it can make such a difference in helping students stay on task. During conferring student and teacher will share knowledge and students can receive descriptive feedback. This will give students opportunities to extend their learning.
A great framework for conferring is:
•

Research Student Understanding
•

Decide What is Needed
•

Teach to Student Needs
•

Link to the Future
To help me start this process, I created a conferring sheet to put on my clipboard. I'm sure I'll want to revise it once I get started, and I'm sharing it here for those who may have some helpful feedback. Click the picture to get a copy.