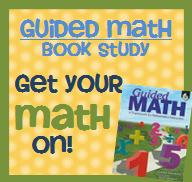 "Supporting Guided Math with Math Workshop"
This is the area I think I've been doing the best with, but I definitely have areas I want to improve. Before the end of the last school year I did a lot of organizing of my materials so I would be better prepared for next year.
These labels are available under my Freebies tab.
I did feel that sometimes the materials I was using did not focus as strongly on what students need to be practicing as they should. Have you ever put out materials just because you wanted to change things up and you already have these prepared? As the year goes on, I find that happening. This year I'm working on making sure that the work stations are better aligned with what we are currently working on / skills we need to review and practice.
Math workshop is the answer to what should students be doing while we work with small groups, so it starts with a lot of training so that students can work independently. Classroom management is huge, because we want the kids doing meaningful work AND not interrupting our small group instruction. Advantages include: flexibility to address the range of needs of our learners (differentiating), development of life skills (independence and endurance/work habits), and freeing the teacher to provide the small group/individual instruction that students need. Challenges may include: that pesky management issue, planning/prep time and less supervision of student work. Sammons has a great table of effective uses for math workshop (p 188 – 189). I've already been incorporating most of them. This year I will be adding math journals and investigations while I reflect on how to make the other areas more effective.
There are two great reflection questions at the end of this chapter.
1.

What are some of the ways that you can organize your classroom to support Math Workshop?
I am planning to move all my manipulatives and other materials to a new spot in the classroom so that they are all together. Hopefully this will help my students to easily gather the things they need.
2.

How can implementing Math Workshop promote the learning goals you have for your class?
I believe the changes I am going to make will help me align all the activities students are working on to the posted learning goals (I Can statements) each week.
Ultimately, I want to keep all the things that have been working well AND implement the new ideas that I am learning in this book study. It's making me feel a bit excited about the new year starting (but still happy there is a lot of summer left!).