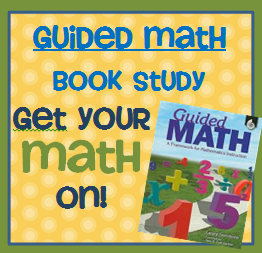 Have you heard? There is a great online book study going on right now, and you are not too late to join in. We are reading the book "Guided Math" by Laney Sammons. I ordered my copy from Amazon and had it in just a few days.
Jump on over to Primary Inspired to get started with chapter 1 even if you don't have the book yet.
After reading the first chapter last night I have lots to think about. Some of my questions are:
1. How does this work with the timeline I am supposed to follow -- teaching a new lesson every day?
2. I teach two classes (same math lesson) each day. That means I don't have "morning work" time with one class. How might I adapt?
3. What will I need to change in my classroom environment to make it numeracy - rich?
So much to think about; I'm looking forward to delving into chapter 2!