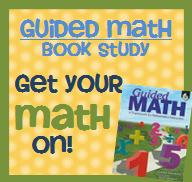 I have been looking forward to the chapter 5 discussions -- Using Guided Math With Small Groups. This is my number one area I want to tweak this summer to be more effective. Chapter 5 is huge - over 50 pages - and I found myself going back and re-reading a lot.
Of all the advantages of small-group instruction I zeroed in on this: We can give our students the support they need and adjust instruction to maximize learning. It's an effective way to:
* differentiate
*teach math "hot spots"
*teach with manipulatives
*assess student learning informally
*support math process standards
I really like the idea of doing the manipulative work in small groups -- so much easier to organize for that than whole group.
I just finished two days of training for Common Core Standards (I still have 2 years before they are fully implemented at my grade level) and it was clear that guided math is going to be awesome for this.
One thing I find helps me with small group instruction is to write my lesson plans as I go, so I am working on a format for that. I find that trying to do the plans ahead keeps me from actually responding to what I'm seeing each day in the lesson and in formative assessment.
What are you already doing in small-group instruction that works for you? What are you going to change?